Peter Symonds is first sixth form college to make anti-racism pledge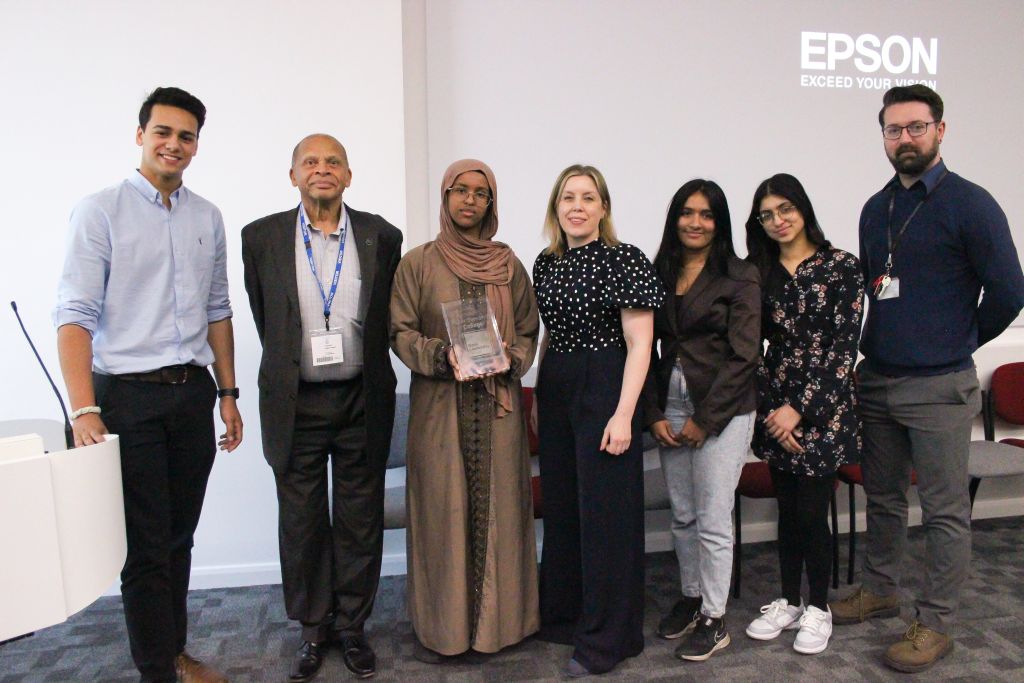 On Tuesday 16 May 2023, Peter Symonds College, Winchester, held a unique event to pledge its commitment to anti-racism. It is the first sixth form college to hold an event of this kind; no other college, to our knowledge, has taken such significant steps to demonstrate participation, and actively encourage, the shaping of its culture from the entire College community.
Peter Symonds Principal, Sara Russell, who led in the reading of the pledge, said: 'Our College ethos of celebrating individuality, promoting community and strengthening representation is one that we are proud of, but there is more that we can do. Pledging our commitment to anti-racism and encouraging the College, as a whole, to continue to shape a culture and community to which everyone can belong is a priority for us.'
The anti-racism pledge event brought together students and staff who shared their insights and experiences of what it means to belong and to be represented within a large, diverse college community.
Zac Hussain, President of the Student Union, said: 'For me, anti-racism is about knowing what racism is, the forms it can take and being able to take action against it. One of the best things about Peter Symonds is that we are treated as individuals and our differences are celebrated.'
Stevy Abrahams and Tisha Latkar, also shared their experiences and explained why representation matters. Tisha said: 'When I was younger, I felt under pressure to adopt a culture that wasn't really mine, or who I was. This pledge allows us to open doors to other opportunities to raise awareness and make positive change.'
Stevy added: 'At Peter Symonds, there is the freedom and opportunity to really express myself in the way that I want. Being able to explore our culture and share it with others, such as on Ethnic Clothing Day, has been one of the best moments so far.'
The landmark pledge event was also attended by Robin Landman OBE, Co-founder and Director of the Black Leadership Group (BLG). Since December 2021, Peter Symonds College has been affiliated with the Black Leadership Group, an organisation which to challenge systemic racism and is an authoritative voice of Anti-racism in the F/HE, schools, public, voluntary and private sectors.
Robin said: 'This pledge by Peter Symonds College is an important initiative and builds on some of the great work the college has undertaken as a leading member of BLG affiliate community.
'We especially applaud this because Peter Symonds is one of the country's largest sixth-form colleges with a rating of outstanding, so this is a top institution in education that is truly leading the way on anti-racism. Making this pledge is a collective college decision, and demonstrates strong leadership on an important social issue.'
With over 4,300 students, Peter Symonds has a vibrant, diverse student community and many are proactively involved in a wide range of cultural societies, action groups and forums aimed at raising awareness and promoting equality, diversity and inclusivity (commonly known as EDI). Lee Slaymaker, team leader for the College's EDI forum, has seen an increase in active participation from students since the pandemic.
Lee said: 'Our EDI focus is: celebration, participation, representation; and students at Symonds very much take the initiative in creating events, awareness campaigns or activities that allow everyone to share, learn and enjoy different cultural experiences. It's fantastic to see students and staff working and learning together, as a community, to ensure everyone can have a strong sense of belonging.'
-ENDS-
Further information from Lottie Burley
Tel: 01962 857553 E-mail: marketing@psc.ac.uk
Image (left to right):
Zac Hussain, President of Student Union (student), Robin Landman OBE (BLG Co-founder), Sumeya Abdi (student), Sara Russell, Principal, Tisha Latkar, Stevy Abraham (students), Lee Slaymaker, EDI Team Leader (PSC)
Notes to editor
About Peter Symonds College
Peter Symonds College is an open access sixth form college in the heart of Winchester, Hampshire. It is one of the country's most successful colleges and has been rated 'Outstanding' by Ofsted since 2004. The College is one of the top five contributors of students to Oxford and Cambridge universities nationally. With over 4,000 students, the college is a vibrant, diverse community and offers a modern, forward-thinking environment in which students can learn and develop. The College also provides an extensive enrichment programme, comprising more than 170 activities, clubs, sports and groups giving students an incredible opportunity to develop new skills, meet new people and make the most of college life.
About Black Leadership Group
BLG exist to challenge systemic racism for the benefit of all *Black communities and the wider UK society as a whole, to be the authoritative voice of Anti-racism in the F/HE, schools, public, voluntary and private sectors and to further the interests of people from ethnically diverse backgrounds who share a lived experience of the effects of racism. Their mission is to eradicate racism; their vision is an Anti-racist culture at the core of all aspects of UK life, education and work.
The *Black Further Education Leadership Group (BFELG) changed name from BFELG to BLG (Black Leadership Group) in March 2022. Enabling them to embrace their growing membership beyond FE and in response to requests to extend their work on Anti-racism to diverse sectors.
Media contact: Tim Walsh, Black Leadership Group, 07523 550339
* BLG uses 'Black' as an inclusive definition for people from ethnically diverse backgrounds who share a lived experience of the effects of racism.