BLG's Call to Action on Ethnic Equity in FE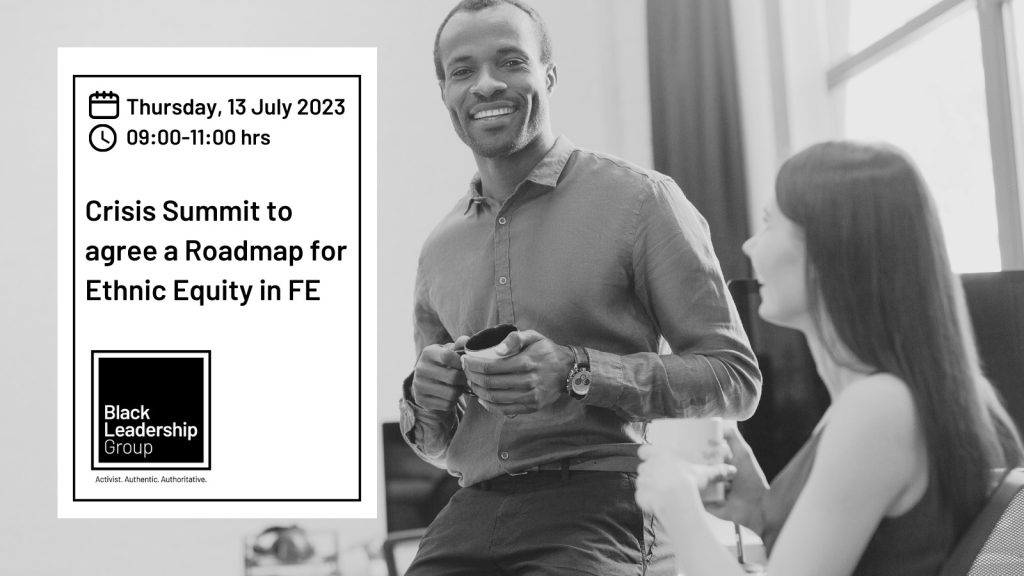 Nearly three years ago, we wrote an Open Letter that highlighted two major concerns: the continued under-representation of Black staff at all levels of the college workforce and the stubborn and significant attainment gaps for Black students when compared to their peers. We believe there is a correlation between these two facts.
The bad news is that the number of Black CEOs in 2020 – 17 of a total of 244 (7%) has fallen to 14 (6% of 277). In London the total number of four Black principals has fallen to a single individual – in our hyper-diverse capital city, home to roughly50% of the Black population of the UK. The DfE FE Workforce data exercise is published in the Autumn and will complete the picture for representation in governance, and in staffing roles below principal. Anecdotal evidence indicates it won't be good news. What we do know is that across all phases of education in England the common denominator is that Black pupil/student intake is at or around 30% – one in three of the totals in all phases.
Responses to our open letter from system and college leaders ranged from silence, through to action in signing our letter, which eventually reached a figure of 500 sector professionals and others willing to have their names added. Largely, and unfortunately, system leaders were slower to respond and when they did it was largely in the form of platitudinous statements and soundbites. It's fair to say that the concerted, systemic response we were seeking has been sadly lacking. Many stopped short of action beyond simply signing the letter when it's clear that it's everyone's responsibility.
A lost opportunity?
George Floyd's death in 2020 was the spark for creating the Black Leadership Group (BLG). The recent 3rd anniversary of his murder was a time for a stocktake on what – if anything – has changed, and whether the specific red flags in our Open Letter were heeded and acted upon.
The persistent attainment gaps remain, and black students find themselves over-represented in colleges, but under-represented in apprenticeships and in the workforce, at a time of a profound post-pandemic labour shortage. There is no plausible explanation for this that does not feature at least some level of discriminatory practices by institutional 'gatekeepers' in colleges, other apprenticeship providers and employers.
Encouragingly, the response at institutional and organisation level has been far more positive. The 10 Points in our Open Letter formed the framework for the 10 Point Plan Diagnostic Toolkit co-designed by Amarjit Basi and Stella, which we launched as an integral part of the BLG Affiliation proposition in February 2021. A growing number of colleges across the four nations have signed up and have embarked on their own bespoke anti-racist process, and we are working with the Welsh government on implementing their world-leading Anti-Racist Wales 2030 ambition. Affiliates have spread beyond FE colleges to incorporate private companies, charitable organisations, MAT schools and national organisations.
We know what works
What's clear is that what little that has been done by FE system leaders and stakeholders falls far short of being adequate. We know what works – we have a template in the Report of the Commission for Black Staff in FE 'Challenging Racism: further education leading the way', 2003, which established successful interventions such as the Black Leadership Initiative (BLI) and the 'First Steps to Leadership' proposed and run by the Network for Black Professionals. These and other success stories established a black talent pipeline that was abruptly ended by austerity.
When our Open Letter was published, the collective FE response was, metaphorically speaking, 'How did that happen?'. The regression happened because it was mistakenly (perhaps conveniently) believed that race equality had had its turn and it was time to move on to other protected characteristics.
It's clear that part of the problem is that the FE system believed that it could solve challenges like systemic racism without consulting those with lived experience of it. It happened because organisations and institutions focussed on meeting the challenge through generic policies and procedures – but not actions – and by simply meeting the minimal legal requirements of the Equality Act they could do what was necessary to avoid litigation, but not change the status quo in any meaningful way. Not surprising, then, that Black students and communities have been left under-served by FE colleges, and Black staff under-represented at all levels.
Our call to action
We propose an agenda for real action. We will convene a 'Crisis Summit' of concerned stakeholders in July 2023 to meet and agree a Roadmap for Ethnic Equity in FE, for publication by December 2023. By 'concerned stakeholders' we mean senior DfE leaders, government agencies e.g., Ofsted, ESFA (Education and Skills Funding Agency), FE Commissioner; Black CEOs of colleges; CEOs of BLG affiliated colleges; sector membership organisations e.g., AoC (Association of Colleges), SFCA (Sixth Form Colleges Association), ETF (Education and Training Foundation); trade unions and student representative e.g., NUS (National Union of Students) and Leaders Unlocked and representatives of the recruitment agencies that work in the FE system.
This online meeting would be action oriented, not a talking shop nor an invitation to kick the can down the road. Additionally, given the fact that we are a year from a mandatory General Election, we should collectively work to secure a political consensus for the roadmap, so that there is no hiatus in implementation in 2024.
We all collectively know the scale of the challenge: We must halt the decline in the number and proportion of Black CEOs; we must repair and strengthen the Black talent pipeline and increase representation in governance and staffing at all levels, and we must simultaneously tackle the persistent attainment gaps that prevent Black FE students reaching their potential at a cost to themselves, and depriving UK PLC of a significant part of the talent pool needed to fuel our economic recovery.
We need to approach this challenge with a collective determination to do the right thing.
This article originally appeared in FE News.